RETAIL AND DISTRIBUTION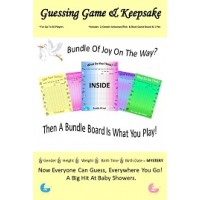 Welcome Buyers!!!! After 7 years of selling our products exclusively on our website, we decided to wholesale them as well. We created games that everyone played but didn't yet exist in a tangible form.
See our product description page for detailed information regarding each of our products.
- Made in the USA
- 100% Woman Owned
- High quality and extremely durable items
- Games have dual (game & keepsake) usage and fit great in a frame.
- Exclusive Rights- TRADEMARK and PATENT PENDING (Preventing competition)
- Product line customization is available to fit your exact needs
- Retail (Store) ready-packaging/hang tab included
- Retail (Online) ready- we can drop ship for you or ship to your warehouses in bluk.
- Full kits or individual items can be purchased.
-Cross Merchandising-3 Retail Category/Departments:
-Baby Shower/Kits- Infants/ Baby, Celebration, Toys/Games
-Gender Reveal Boards/Kits- Infants/ Baby, Celebration, Toys/Games
-Potty Training- Infants/ Baby, Toys/Games, Toiletries
-Shipping:
12 per case- (negotiable) -15 boards fit on a small peg.
-Additional Information:
Our wholesale cost includes a retailers request for changes/ customization, and any game board or kit decor or product variation alteration.
Email us for pricing: bundleboard@gmail.com
We look forward to possibly working together.
There are no products to list in this category.