IT'S A BOY!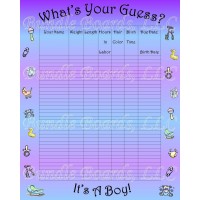 Begin your tiny gentlemen's story with one of our uniquely designed board themes below. If a bundle of joy is on the way, a Bundle Board is what you play.
IMPORTANT
TWINS!!!!!
At checkout you will be asked if your kit or game is for a single or twin birth. This allows us to give you the suitable (extra column in the game, wording on all of the items etc.) items.
NUMBER OF GUESTS/PLAYERS!!!
At checkout you will be asked what player/guest size kit you want. That number (50, 35 or 15) determines how many participants will be able to play your board game(s) and also (if you purchase a full kit) how many necklaces are included.
See a detailed product description of our game, "mini" and "full" kits on each product's page.
FREE SHIPPING!
Showing 1 to 5 of 5 (1 Pages)